WordPress maintenance? What's that?!you
So you've just installed WordPress for the first time and you couldn't be more thrilled with the results. Everything is simple, intuitive, and you're publishing great content on a regular basis – all with the ease of a seasoned webmaster.
Then unexpected things start happening.
At first, it's just one plugin asking for an update. Then another. Next, your theme is apparently out of date. Finally, the whole WordPress software itself needs to be updated. One update doesn't go so well, and now you have errors.
You start wondering if you need to back up your blog posts – after all, you've written thousands of valuable words that consumed hours and hours of your time. You don't want to end up one of those bloggers asking the WordPress forum how to restore your blog – but you also don't know where to start with regular WordPress maintenance.
That's why we've put together some tips for making WordPress maintenance easy, intuitive, and effective.
How to simplify WordPress maintenance from the get-go
If you're going to maintain your WordPress website or blog properly, you need two things. First, you'll need the right tools and tactics that will make backing up and monitoring your WordPress site as simple as possible.
Second, you'll need to instill a couple of good habits. After all, you don't want WordPress maintenance to take up more time than is absolutely necessary.
WordPress maintenance tactics and tools
So to help you implement a WordPress maintenance strategy that will safeguard your precious website, let's start with the tactics and tools that can help you out.
Our Pricing
Transparent, fair and flexible pricing options with access to all of our services. Senior experts. Fast turnarounds. Remarkable designs!
1. Make a backup of your WordPress website
We've just published a detailed on how to backup your WordPress website, however, if you're in a hurry, here's a quick solution.
There are a number of ways to do this – for example, you can make backups manually via your web host's cPanel – but we're not interested in lots of ways. We want one simple and effective way: a WordPress plugin.
So … install BackWPup:
BackWPup – WordPress Backup Plugin
Author(s): Inpsyde GmbH
Current Version: 4.0.0
Last Updated: December 5, 2022
88%Ratings700,000+InstallsWP 3.9+Requires
Watch the videos, and after all of the initial set-up, backing up your WordPress website will be as simple clicking a few buttons every so often.
2. Clean up your WordPress database
You might be able to tell from the previous tip that we like good, simple WordPress plugins that do most of the work for you. WP Optimize is a database cleanup tool that handles everything from removing stale post revisions to clearing out accumulated post trash.
WP-Optimize – Cache, Clean, Compress.
Author(s): David Anderson, Ruhani Rabin, Team Updraft
Current Version: 3.2.10
Last Updated: December 12, 2022
96%Ratings1,000,000+InstallsWP 4.5+Requires
(Additionally, add a note to yourself that you'll want to regularly remove plugins that you no longer use when undergoing WordPress maintenance tasks.)
3. Check if your website is indexed in the search engines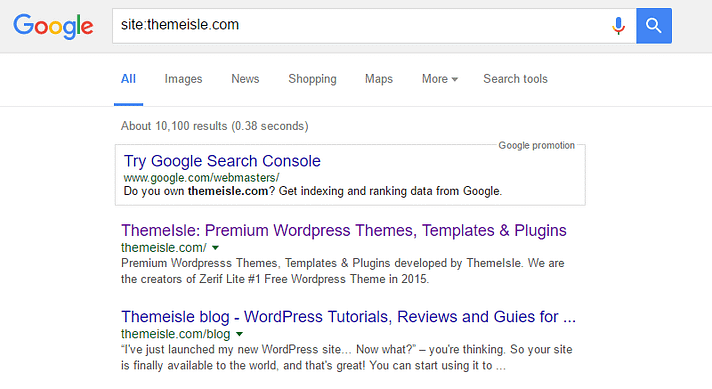 If you want people to be able to find your website, you'll need to ensure it's indexed or listed in search engines like Google.
Doing something as simple as typing site:yoursite.com into the Google search engine field is a quick way to check that your content is indexed and ready to be displayed to internet searchers.
A more advanced option is to use the free Screaming Frog SEO Spider Tool to analyze your website. This tool will identify broken links, discover duplicate content, and carry out a few other essential SEO-related tasks to help ensure your website delivers a positive user experience and is search engine friendly.
(Another task you can carry out is to search Google for some of the keywords you're targeting in your content. This task can be carried out every so often, just to check up on your visibility in the search engines.)
4. Run a security check
Scanning your WordPress blog for malware might not seem important now. However, it's something you'll wish you'd done the day after your site has been hacked or infected. You might not think that you're a target for hackers, but malware has a life of its own and doesn't care who you are.
The free Sucuri WordPress plugin can help you out with this essential maintenance task.
Sucuri Security – Auditing, Malware Scanner and Security Hardening
Author(s): Sucuri Inc.
Current Version: 1.8.36
Last Updated: December 12, 2022
84%Ratings800,000+InstallsWP 3.6+Requires
5. Enable maintenance mode
When carrying out work on your site, switching to maintenance mode can be a good idea. If you need to update your site quickly, it's best not to make incremental changes that everyone can see. Instead, use maintenance mode to temporarily make your site unavailable while you work on improving it. Typically this is only necessary when updating your theme, but it's something that's worth knowing about.
There's a plugin called WP Maintenance Mode that will help you with that. It's quite easy to use, and lets you display a nice placeholder screen that your visitors will see while you're working behind the curtains.
5. Monitor your search engine optimization
This essential WordPress maintenance task follows on from ensuring your website is indexed in the search engines. However, the task of website search engine optimization (SEO) is never finished.
Free WordPress plugins like Yoast SEO can make your life easier in this department. The plugin will scan your content and let you know which of your posts and pages could be better optimized for increased visibility in the search engines.
With Yoast SEO, your goal is to turn a red light to a green light. It only takes a few minutes per post and can ultimately result in vastly improved search engine rankings and more traffic for your WordPress website – something we all want!
How to make WordPress maintenance as pain-free as possible
Now you have a list of tools that will help you handle WordPress maintenance in as little as a few minutes every month. However, you won't actually achieve that level of productivity unless you stay conscious of the best practices. Fortunately, we have a few suggestions:
a) Set a regular maintenance schedule
Use a tool like Google Calendar to remind you when it's time to work on the maintenance of your WordPress website. If necessary, include a link to this post in the description as a reminder of all of the proper tools and steps.
What Should be Included in Monthly Website Maintenance Plans
We also recommend keeping a Google Sheets or Excel file with a task list of your duties, such as backing up your data and running a security scan.
b) Test your forms
If your site has any forms such as contact forms or orders forms, it's essential that you test them by submitting a dummy entry. You wouldn't want to risk those customer inquiries or client leads going missing would you?
c) Set and monitor keyword goals
There's an old saying – "what gets measured gets managed." If you aren't measuring your search engine results, why should you expect incremental improvements?
To help with this, install and monitor Google Analytics during your site setup to gauge how you're performing in accordance with those keyword goals. It's tempting to look at Google Analytics every single day, but once a month should suffice after you have a good routine in place.
Final thoughts on WordPress maintenance
Once you get all of the necessary tools plugged in and running, your ongoing WordPress maintenance strategy shouldn't take up much of your time at all. Following a thorough maintenance routine at set intervals, which includes backups, data cleaning, SEO, and security, will help you enhance the WordPress experience for both you and your readers.
Increase brand awareness, build trust and drive conversions.
A professional website custom-made for your business increases your customer trust and helps you build a better connection. And once that is done, you can expect improved purchase rates, customer loyalty and brand awareness.
---